The officials of the PAF (Pakistan Air Force) skipped a beat when they saw an Indian missile suddenly changing its course and heading toward Pakistan.
An unarmed supersonic Indian missile was accidentally fired at Pakistan on March 9, 2022.
Fortunately, for both the nations there were no civilian casualties although some property was damaged on impact.
Hello everyone and welcome to a newly launched series of Case Studies. In this series I will be taking you through the What, Where, How and Why of various important national and international events that have occurred over the past week, month, year or decade.
In this week's article, let us deep-dive into the cause, nature and aftermath of the accidental firing of an Indian missile in the Pakistani territory.
What exactly happened?
On March 9, an unarmed supersonic missile (alleged to be the practice version of the BrahMos missile) was accidentally fired during an inspection at a secret satellite base of the Indian Air Force (IAF). This missile breached the Pakistani Air Space and travelled around 124 km inside Pakistan before the crash landing near Mian Channu city causing damage to civilian property at 6:50 pm.
Although the PAF claims that they started tracking the launch of the missile from its launch site at Sirsa itself, their delay in acknowledging this fact and demanding a probe into the matter tells us that they did not have the capability to track either the flight pattern or the launch site.
Moreover, the PAF spokesperson Air Vice Marshall Tariq Zia said in a statement that, "the projectile travelled 124 kilometres inside Pakistani territory in three minutes and 44 seconds." If the PAF had started tracking the launch of this missile, they would have acted. Their unresponsiveness tells us that they did not know about this launch till it crashed in Mian Channu.
Some sources also claim that India had already informed relevant Pakistani authorities of the accidental launch long before Major General Babar Iftikhar held his press conference on the night of March 10. However, this cannot be verified, since the public statement was issued regarding this accident by the Ministry of Defence only on 11 March 2022 which was 2 days later.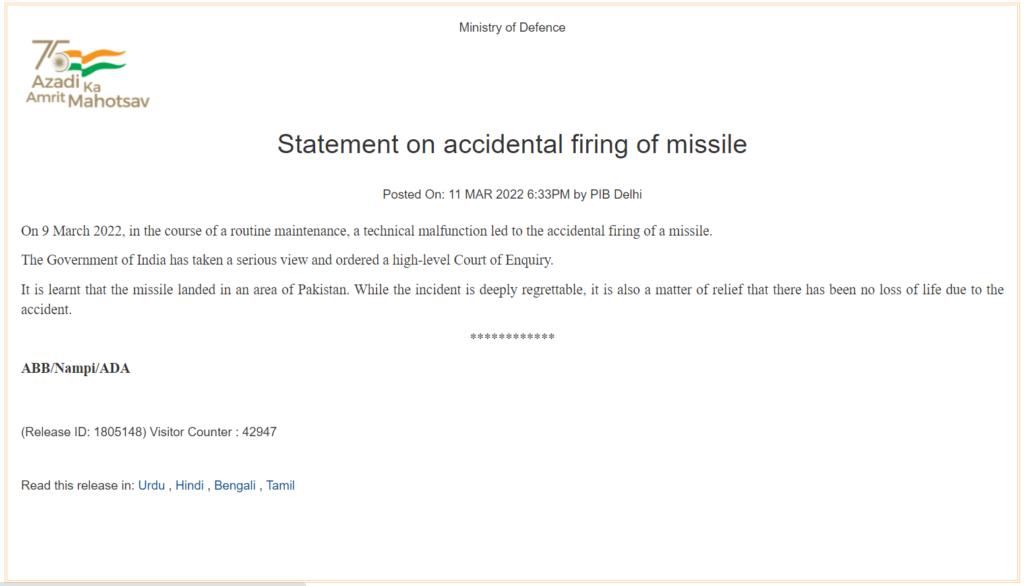 This tragic event has led to harsh criticism w.r.t India's safety protocols for weapons across the globe. Luck has played a crucial role in preserving the existing bilateral ties between India and Pakistan. Hence, this incident was not very consequential because of two lucky circumstances.
First, although the missile that was misfired was nuclear-capable, it was not armed. Secondly, this accident took place at a time when neither of the nations was in the middle of an armed conflict or military tension, otherwise, the Pakistani military might have interpreted it as a deliberate attack and responded militarily.
There was also no loss of life. If civilian lives had been lost, India would have to heavily compensate Pakistan monetarily thus affecting our Balance of Payments (BoP) position.
After Effects of this Incident
Without a doubt, the Pakistani officials lodged strong protests against the incident and demanded a Joint probe or high-level Court of Enquiry and warned that there could be "unpleasant consequences" to such developments.
India's Ministry of Defence (MoD) officially made a press release on March 11 as stated earlier and Defence Minister Rajnath Singh also informed the Parliament that a missile was accidentally released during routine maintenance and inspection.
Although India and Pakistan have issued press releases seeking inquiries into the misfiring, neither of the nations has given the specifics of the kind of missile that was fired. The MoD is also not sure whether the accident was due to a technical fault or human error.
An investigation has been launched by India to determine the exact causes of the accident and to take corrective actions so that such incidents do not happen again.
The BrahMos Missile
The BrahMos is a medium-range supersonic cruise missile that can be launched from a submarine, ship, aircraft, or land. It is the fastest supersonic cruise missile in the world and has been developed by a joint venture (BrahMos aerospace) between Russia's NPO Mashinostroyeniya and India's DRDO.
This missile has a range of 290 km and is also nuclear-capable. India and Russia are also in talks to develop a hypersonic cruise missile – BrahMos II.
The BrahMos was first test-fired on 12 June 2001 from the Integrated Test Range (ITR) in Chandipur, Orissa in a vertical launch configuration. A series of test fires have been in progress since then some of which have been successful and corrections in the hardware and software were also done in case of failed test fires.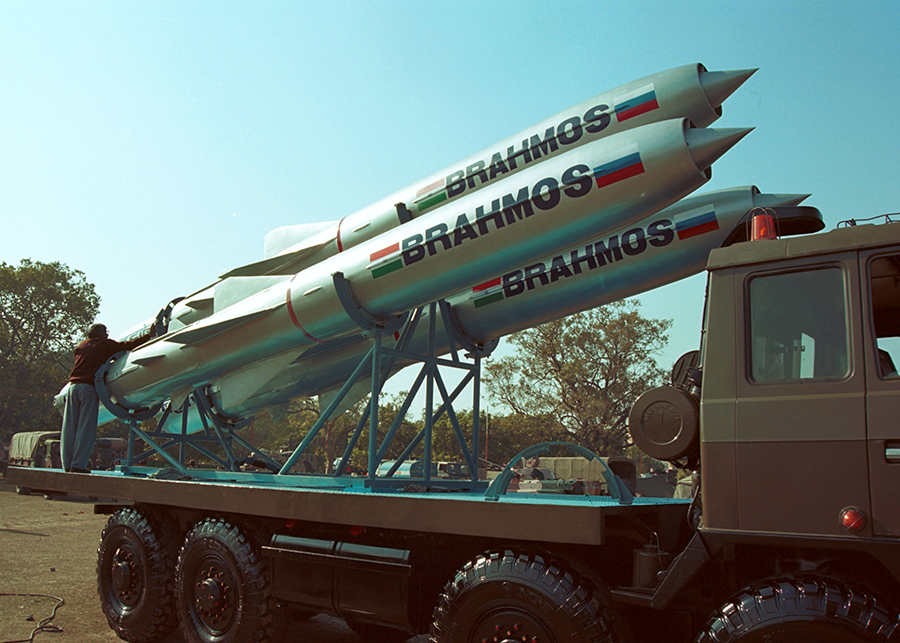 Pakistan has claimed that the supersonic projectile that was misfired on March 9 from India travelled for 300 km at a height of 40,000 ft. with a supersonic speed of 2.5 – 3 mach (i.e 2.5 to 3 times the speed of sound). These characteristics are close to the features of the BrahMos missile, and many sources have also confirmed the same.
How did the accidental launch happen?
A few years ago, organizational Sociologist Charles Perrow had indicated that all weapon systems are inherently accident-prone because of interactive complexity. This means that the possibility that different parts of the system can affect each other in unexpected ways results in producing unexpected outcomes.
This is probably the main reason why the BrahMos missile was accidentally fired.
The Ministry of Defence claims that the misfiring most likely took place because of human error.
Even in case of human error, there has to be someone held accountable for this grave accident. Appropriate penalties should be levied on such organisations/individuals who were responsible for this horrible mistake.
In case, this accident was due to a technical fault, corrective actions should be taken towards fixing the software and hardware systems of the missile.
The investigation around the incident still seems to be underway since no official results stating the exact cause of the accidental launch have been released.
Near-miss collision with commercial flights
A Flydubai flight from Dubai to Sialkot, an Indigo flight from Srinagar to Mumbai and an Airblue flight from Lahore to Riyadh were among the ones that crossed the missile's path within an hour after it had been launched. This was reported by a news website which had picked up the data from a flight-tracking portal Flightradar24.
Unfortunately, this near-miss incident never saw the light in Indian news media. The media is quick to criticize the security lapses of various companies whether big or small, lapses in other nations, etc. Even minor safety breaches are highlighted, but when it comes to any fault of the government, the media conveniently looks the other way.
The consequences would have been grave had any of these commercial flights collided with India's accidentally launched nuclear-capable missile.
Conspiracy Theories around the Misfiring
Quite a few conspiracy theories have developed around this incident. One such theory is that the firing of the BrahMos missile was no accident. It was done on purpose so that India could gauge Pakistan's response to such an airstrike so that at the time of war (if it ever happens), India can use this information to its advantage to make better strategic decisions.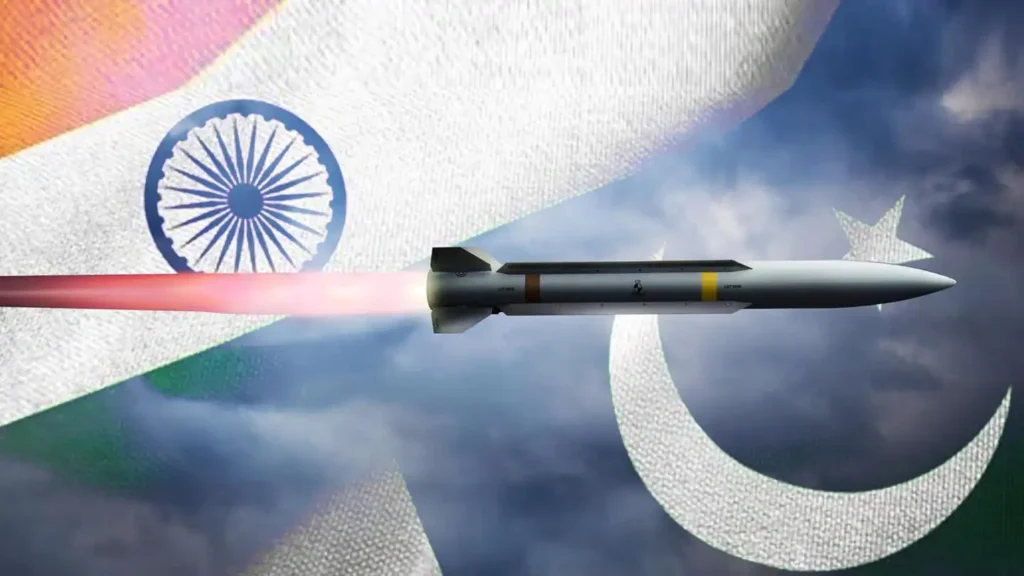 In my opinion, India would not take such a risk since the response from Pakistan could be in the form of another airstrike which could lead to war. Hence, it seems highly unlikely that just to test Pakistan's response such a big risk could have been taken.
Pakistani officials also fear that this "accidental misfiring" could be just a cover for a much larger ploy by India and electronic warfare and communication resources might have been compromised.
Another theory is that although Pakistan claimed that there was no warhead in the missile, the visuals shared by the ISPR (Inter-Services Public Relations) which is the PR and media wing of the Pakistan Armed Forces revealed the extent of the damage. The entire structure was shattered also collapsing the walls which only a warhead overpressure burst could have caused. If there was indeed a warhead it would indicate that the missile launch by India was pre-meditated since the warheads are never attached to a missile during test firing to avoid any such accidents in case the missile testing fails.
The surgical strikes and airstrikes have shown that India's present military posture is of offensive defence. Looking at the facts of the incidents, one also wonders why the missile missed the civilian targets near the only uninhibited building. Is Pakistan covering up something to hide behind the 'accidental fire claim' to avoid revealing a high-value target?
Effect on the Bi-Lateral Ties between India and Pakistan
Relations between India and Pakistan have never been great right since the Partition that took place on 15 August 1947. These ties have only worsened after India's abrogation of the special status of J&K through the revocation of Article 370 of the Indian Constitution. The Pathankot airstrikes and Pulwama attacks have not helped this situation either.
Pakistani retaliation to this incident could have led to a war-like situation. Fortunately, for India and the rest of the world, peaceful talks about inquiries and investigation are being encouraged from Pakistan, or else with Ukraine and Russia already at war and India and Pakistan on the verge of war; the possibility of a Third World War wouldn't have been too far-fetched.
Since only two months have passed since this incident, nothing much can be said about the far-reaching effects of this misfiring. However, one thing that can be said for sure is, doesn't seem like our bilateral ties with Pakistan have gotten any better or worse.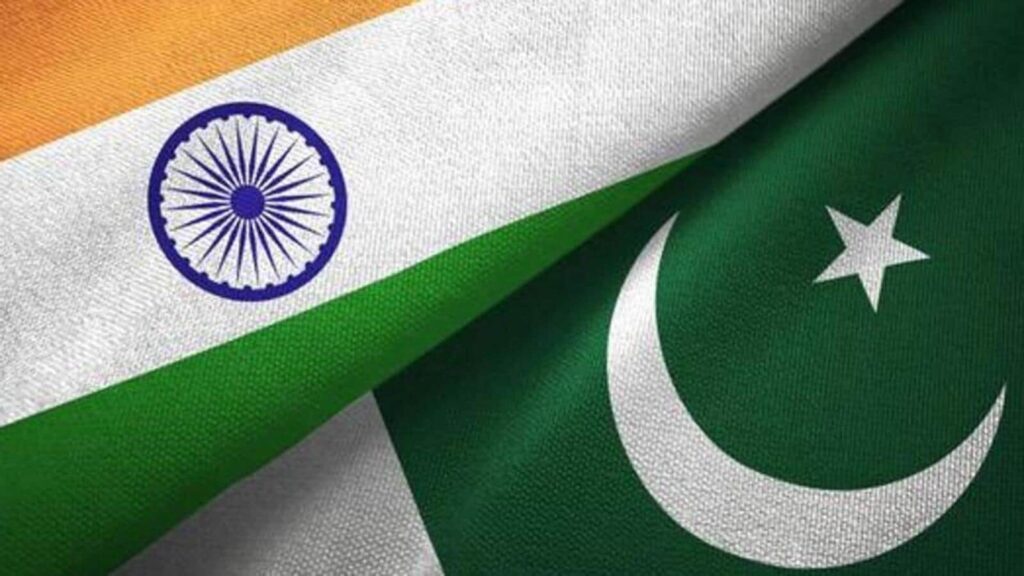 India's Learnings
A missile of such a high grade does not get launched by the press of a button. There are a series of protocols, approvals, mechanical and electronic locks, SOPs, etc. which have to be followed before any launch even in the testing environment. There are multiple built-in fail-safe mechanisms in all cruise & ballistic missiles.
Despite having so many mechanisms such an accident puts a black spot on India's nuclear programme.
Although the Ministry of Defence claims to have safety protocols and procedures of the highest order, a thorough review of the Standard Operating Procedures (SOPs) around safety, inspection and quality should be done.
Further, India should also set up a Quick Response Team (QRT) which will become active and correspond with the opposite nation in the case of such rare occurrences.
In my opinion, India should have made the public press release on the night of March 9 itself instead of 48 hours later.
This misfiring also endangered many international and domestic passenger flights both in India and Pakistan. Keeping this in mind, the ministry should try and work out a different airway for such missiles so that in case a missile has to ever be launched then the passenger flights which are currently in transit will not be put at risk.
All set and done, there is a lot of secrecy around the nuclear operations of India given the sensitivity. We can only hope that the government takes decisions toward peace while maintaining a dominant position in the international forum.
This brings us to the end of the case study.
I hope this article has been insightful and given you a different perspective on the events that took place.
Please let me know your opinion in the comments section below.
We'll meet again next time, until then, Happy Reading 😊